In the November plein air with Alexander Tyunkin
Publication date: 27.11.2020 09:08
When I fly to the naplenair, they want me to "... have a good rest."
Probably, from the outside, it is difficult to imagine and call painting a work. It is difficult to understand how physically and energetically you are exhausted in the struggle with weather conditions, carrying heavy sketchbooks, paints, canvases ... and even in a greater struggle with yourself, when you try to catch nature and transfer it to #canvases, and she tries to slip away and leave the inner emptiness and disappointment.
⠀
"How many plein airs did you have?"
Lord! Can you really count the plein airs?
An athlete makes countless attempts to perform somersaults - can he name their number?
Plein air for a painter is the same!
⠀
Plein air with a good teacher is always a leap forward!
⠀
When I was just starting to paint from nature, Tyunkin pulled me out of the jungle of mistakes and taught me to orient myself: Big Light and Big Shadow.
⠀
Now that you already have a skill, it helps you see strengths and develop them, teaches you to reason over each new stage and write so as not to bury yourself in details that do not convey the general state:
"Don't get carried away with details that seem unfortunate. I got it in tone and color. Stop. "
⠀
What to enhance?
"The break of light and shadow is always textured. This is the most powerful point in painting that needs to be loaded as much as possible. "
⠀
How to write big light?
"The reflex from the big light cannot be as heavy as the half-tones of the big light. They should be darker than the midtones in the light. "
⠀
How do I paint a large shadow?
"The falling shadow is darker than its own shadow. There are no sharp contrasts inside the big shadow. "
⠀
Why do you need to write in the open air, and not from a photograph?
"Nature is richer than photography"
⠀
The shadow is always cold and the light is warm?
"There is no sun, the shadow is warm. The light is cold. Sky light source. It is gray. Cold. "
⠀
How to write openings, doors, windows with one stroke?
"On the doors and windows we make a stretch - it is darker from below, lighter from above."
⠀
And there are many, many more things that make Painting a painting, and not a coloring or a postcard!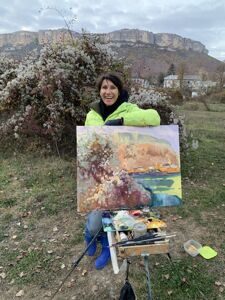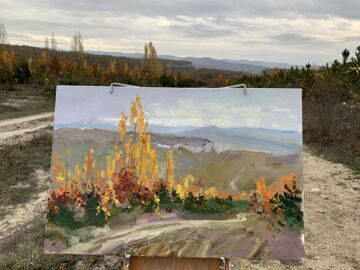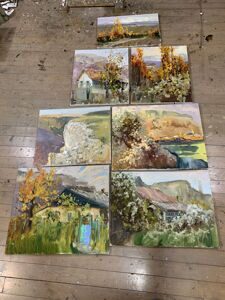 Comments
No comments yet
Please log in to leave a comment.