Regatta union 2019
Publication date: 09.08.2019 09:11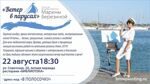 Regatta union 2019! Hot air, vivid impressions, interesting people, extreme races! And yachts .... white, graceful, a symbol of success and freedom! My emotions from fate splash right on the canvas and on August 22 at 18.30, in the restaurant "Library" (Sovetskaya, 20) will open the exhibition of my works, written based on the regatta Union 2019! I invite all lovers of the sea, drive, sea sunsets and sunrises, cozy bays and raging emotions! On the summer terrace of the "Library" we will open an exhibition-sale of paintings "Wind in the Sails"! Treats, good music and communication with interesting and close-minded people will make this August evening even warmer and brighter!
Comments
No comments yet
Please log in to leave a comment.
Attention! Cookie need to be enabled on your browser to allow the site tofunction properly. If, for some technical reason, whether transmission, orstorage of cookie data is not supported on your browser, then authorization tothe system will be unavailable.